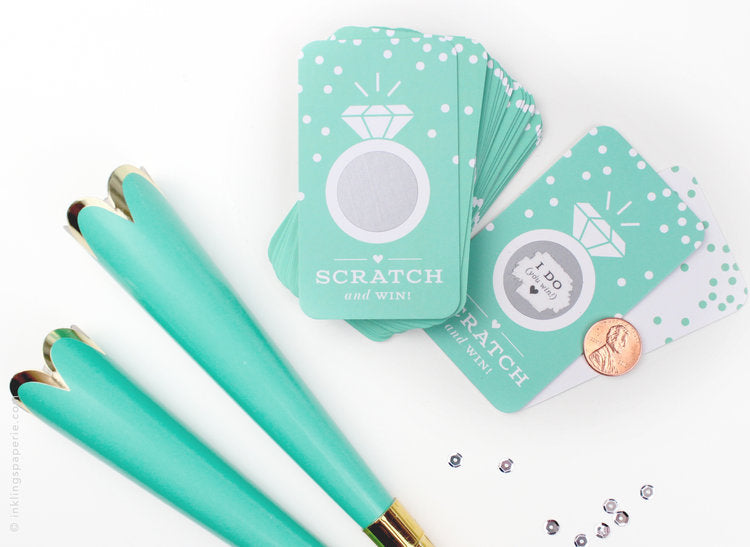 Every now and then, someone contacts us and says "These are SO cute! How do they work?" The answer is that there are countless ways to enjoy scratch-off cards. We thought we'd share some of our favorites here on the blog!
1. Door Prizes
Hand a card to each guest as they arrive as a fun way to give away a door prize as an icebreaker! Be sure that the number of winning cards you hand out matches the number of prizes that you purchase. Winning cards come packaged separately for you to shuffle in, and we can include any number of winning cards with your order so you have exactly what you need!=
2. Virtual Shower Game / Pre-Shower Game
Include a scratch-off card with each invitation for guests to scratch ahead of time to give them a taste of the fun they'll have at the shower. Those with the winning card can bring it to the shower to redeem their prize! Or if you will be hosting a virtual shower (online), this is a great game to play with guests who may be scattered all over the country! Mail cards out to each guest and instruct winners to snap a shot of their winning card on their camera phone and text the picture to you in order to claim a virtual gift card or prize!
3. Diaper or Wine Raffle
In the invitation, invite guests to bring a pack of diapers (for a baby shower) or a bottle of wine (for a bridal shower) in addition to their gift to be entered into a raffle. Each guest receives a scratch-off ticket, with one winner to receive a grand prize!
4. Play with Gift Bingo
If you are playing Bingo during the gift opening, hand out scratch-off cards to bingo-callers in lieu of prizes for a chance to win a grand prize. It's like a game within a game, and is a great way to keep the fun going during the entire gift opening without the need to purchase dozens of prizes. Find our coordinating bingo cards here.
5. Set The Timer
Set a timer to go off randomly while the guest of honor is opening her gifts. The person whose gift is being opened when the buzzer goes off is given a scratch-off to open. This is a great budget-conscious idea for those who have a large shower with lots of guests. Our cards are available in sets of 12 of 24, which is a perfect quantity for this game. This is another great way to hold the attention of guests during gift opening, and guests will be all the more aware of who gave each gift!
6. Under the Seat Surprise
Tape scratch-off cards under each seat (or under select seats, if you're on a budget) with one winning card in the room. Guests must scratch to see if they've got a winning ticket!
7. Large Shower Budget Savers
Want to play lots of games, but don't have a huge budget for prizes to give each winner? Control your prizes by handing out a scratch-off ticket to each game winner for a chance to win a grand prize at the end of the shower. To keep the suspense, instruct guests to refrain from scratching until the last game has been played. Then all at once, allow each card holder to scratch to reveal the winner overall. Consider having smaller consolation prizes on hand for the other card holders.
8. Beat the Line
Place a card under each plate, and instruct each guest to scratch their card. Randomly distribute winners throughout each table. The table with the most number of winning cards gets to be first in line for cake! Or if you would prefer, award the table with a shareable prize (a bag of M&M's, mini hand sanitizers for each guest, or a bowl of snack-sized candies to share).
9. Centerpiece Prizes
If you have guests seated around tables, lay a card at each placesetting with one winning card at each table. The person with the winning card gets to take the centerpiece after the shower is over! They're a fun way to add color to the table and kick off the fun! Mix and match our cards (available in a variety of colors and styles) to create a look that's all your own!
10. Favor / Goodie Bags
Place a scratch-off in each favor bag for guests to scratch before they leave. The winning card holder can receive a prize on the way out!

We hope you have so much fun with these cards! Shop the full collection here!